How to Teach Social-Emotional Skills to Early Learners at the Beginning of School
The start of the school year is an important time for students. Especially our students that are new to the school experience. Teaching them social-emotional skills from the beginning will help them to have a successful year and build their confidence in the classroom.
To help children develop these skills, we must start modeling and teaching skills from the very first day of school. This time is crucial for students to develop their sense of self and ability to understand emotions and manage relationships with others at school.

Here are a few big social-emotional skills to begin teaching early learners on day one.
Teach Early Learners to Identify Their Emotions
The first step to helping students develop social-emotional skills is teaching them the words to use when they need to identify their emotions. When you help your students to build the vocabulary and model how to use it, they will feel more confident when they need to express themselves.
Ask students how they feel during transitions or as you meet them for other learning activities. A great way to do this is with a daily activity that gives students a chance to point to or verbalize how they are feeling. A quick way to do this is with a feelings chart set up in the classroom. Allow them to review the chart to find the best word that describes their current emotions.
Once students have the vocabulary to describe their feelings, you won't need to direct them to use the chart.
Teach Early Learners How to Celebrate Themselves and Others
Celebrations are important for students to initiate and participate in when building a classroom community. Students affirm each other as peers and helpful community members by celebrating themselves and others.
This practice can be easily implemented with weekly individual recognitions and daily classroom celebrations. As the teacher, you can start modeling appropriate celebrations and encouraging students to participate. When students initiate the celebration on their own, be sure to acknowledge that so they feel confident about their work to build community in the classroom.
As the school year continues, students can lead the celebrations and thoughtfully recognize other students without prompting from the teacher.
Are you looking for an easy-to-implement celebration for your students? Check out this in-action classroom video where you'll see our "Special" song! We use this little chant to celebrate individual students in our classroom each week!
Instagram: @the_active_educator
Teach Students to Communicate Their Needs
Another important social-emotional skill to teach at the start of the school year is the ability for students to communicate their needs. This is especially important for early childhood learners who may use big emotions to express their needs.
Model the process you want your students to follow to let you know the major classroom needs. For example, plan how students should communicate if they need to get supplies, use the restroom, or need assistance. Begin teaching these on the first day and encourage students to use them as the school year continues.
As students can communicate their basic needs, you can teach them how to communicate their feelings. Students will talk to each other and the teacher with confidence.
Curriculum to Begin Teaching Social-Emotional Skills on the First Day of School
Students that start with these social-emotional skills on the first day will be on their way to a great school year. The next steps will be to consistently work on developing students' self-awareness, self-management, social awareness, relationship skills, and responsible decision-making.
Teachers that are successful in helping students develop their social-emotional skills intentionally plan learning opportunities for students. So, I suggest teachers use a curriculum that will save time and provide easy-to-implement activities.
This sample from the full Our Caring Community Curriculum is the perfect way to get a good feel for the curriculum before investing in it. I intentionally included some of the most-requested activities teachers have asked for in this sampler so you can implement them in your classroom and see just how easy this curriculum is to implement!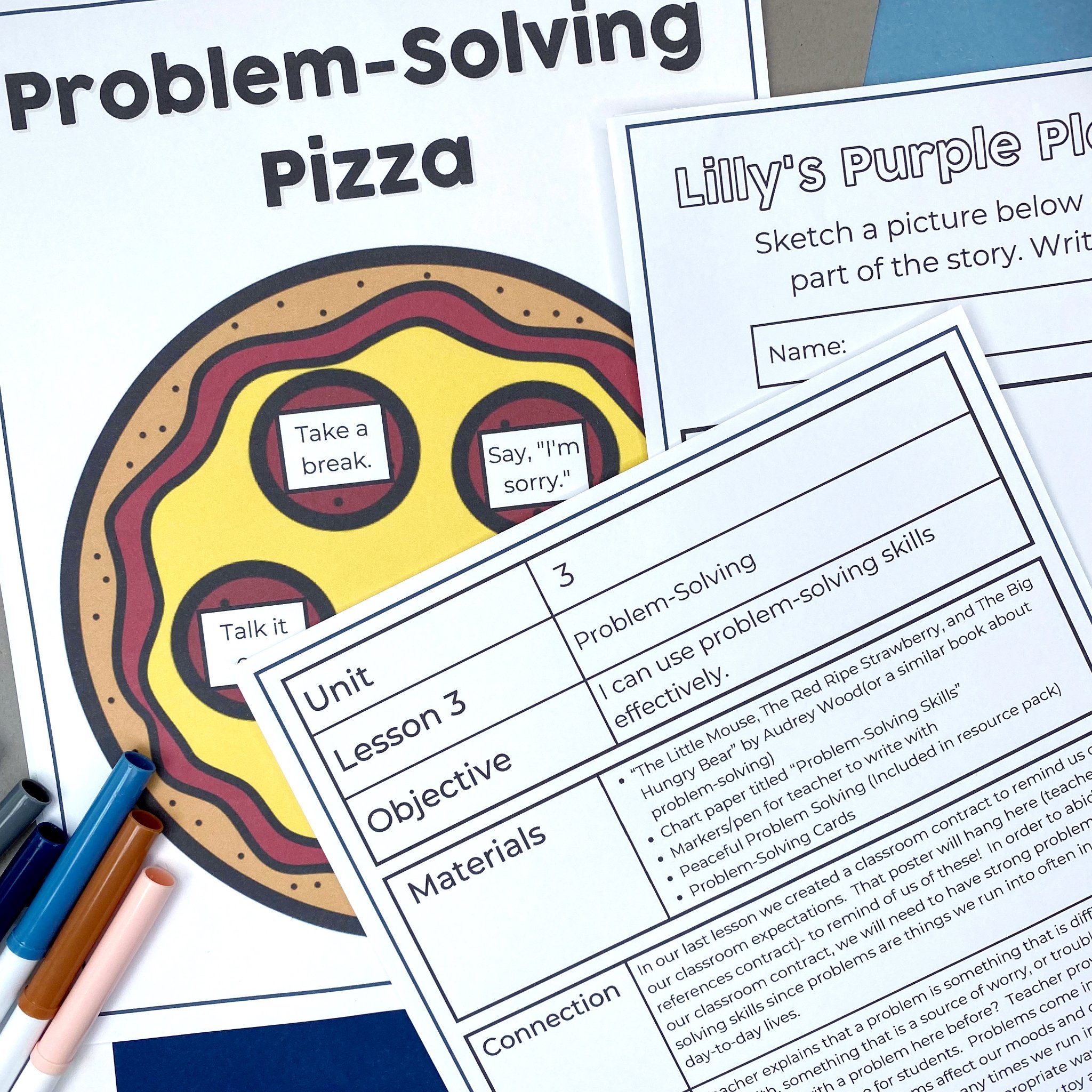 This done-for-you SEL curriculum implements your classroom quickly and easily and is an excellent foundation for your classroom community to become more heart-centered.